Marko Vesse Kung Fu - Internal Martial Arts
SPORTS TESTIMONIALS | CORPORATE TESTIMONIALS | TESTIMONIALS
Sports Testimonials

Testimonial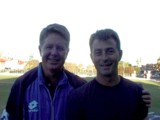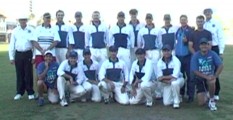 Michael Pawley with Marko Vesse and the Manly Cricket Team
Michael Pawley
Club Coach MWDCC BSc. Dip Ed
MIKE PAWLEY SPORTS PTY LTD
"Marko has been an outstanding teacher"

Marko Vesse has been employed by Manly Warringah district cricket club to assist in the mental and physical preparation of the team members through the art of Wu Xing Dao Kung Fu.

The benefits to the player's mental and physical well being have been outstanding with emphasis being directed towards achieving calm mind and explosive power, both essential qualities for successful performance in cricket.

A side benefit has been to those with breathing problems. Much higher levels of lung capacity have been reached within three months.

Marko has been an outstanding teacher and I am confident Manly's performance will reflect the quality of his work.
SPORTS | CORPORATE | TESTIMONIALS